The amount of comments to the last post,
The Day Hitler Became A "Funky Dude"
, and the often inane and vituperative comments that have been published in Absolute Write under the guise and flag "free speech" and "religious freedom" has forced me to revisit this whole issue once and yet again.
To be honest dealing with hate-mongers is not on the top of my list. To be honest some of the emails and comments show an incredible lack of historical understanding and full of apologetics. To be honest it is tiresome and weary. People who hate - simply hate. And I really suggest that some should just read Hannah Arendt's classic work,
The Banality Of Evil
.
I have waited for awhile due to other demands on my time. I have thought on this issue - removed from the personal - removed from any desire to immediately answer - or to lash out in cynical remarks. I have waited and read and judged - from comments, to emails, to phone calls, to people offering help, to people asking and telling me that since Absolute Write did them a favor
"how could I wash their dirty laundry in public?
" (Honestly that made me laugh and shake my head in disbelief.) Shows a real screwed up understanding of priorities and an incredibly ego-centric take on the world. Between Absolute Write and the showing of a Swastika... well it is incumbent upon any normal thinking human being to indeed "wash that linen in public". Indeed it is a moral and ethical sin not to. Besides the fact that any post in Absolute Write is put out there in Public for the PUBLIC to read.
So there were positive and negative comments. That is to be expected.
Let me make this clear as well. There are many good, moral and wonderful people that hang out at Absolute Write. There are many, a great deal, who have sanely stayed away from this argument. There are many others who are too afraid from some perceived vestige of power they wish to give to those who are powerless, to say something in public. Yet the mass hysteria display of a swastika, the lines about Hitler, the utter inane insistence that those lines had to be read in context - was condoned, supported and backed by the person who owns this board along with those who she has appointed to moderate her board. It is like watching the march of the red ants. And thus, because this is public board, because the "official" policy seems so riddled with warped hate; because silence in this area would be equivalent to admission - one must speak up. To those who think that Absolute Write is always right... well most people know where such a philosophy leads.
Whereas I do not make any claim that people at Absolute Write are sporting swastikas because they uphold Nazi beliefs - I am saying, that the posting of swastikas will invariably bring out an emotional response from those in the modern world, and especially from those who were and are effected by that symbol, and there are millions and millions - and rightfully so. And if one takes that hated symbol and posts it with others - to no less and no more - "reclaim" it - then one is showing at the very least an incredible amount of insensitivity and dullness. It becomes
frightening
when it then causes people to make inane comments about Hitler and the Nazis. It becomes
insidious
when normal people, not having a clue about what they are defending, follow a leader in some nutty attempt at revisionist history. It becomes
loathsome
when comments are dismissed as sarcastic and the readers are accused of taking them out of context when such comments can only bring pain and hurt and nightmares to so many. It becomes
evil
when the excuses are made.
If we remove the personal from all this, there seem to be two divergent lines being taken. First that the swastika showed originally was meant to portray the religious convictions of one person. It was not a swastika. It was not a call to attention. It was a normative expression which every true Buddhist would have done. And thus the swastika adopted by others was also meant to portray a showing of solidarity for this person.
The other argument is deeper and a bit more insidious. It states clearly and simply that yes, the Swastika was used as a symbol by the Nazis to perpetrate the most heinous crime on humanity that has yet to be repeated. (And God help us if it does get repeated.) And yes the Swastika represents evil and death. But it is time to "reclaim" the Swastika. It is time to look at this wondrous symbol with peace and joy and love. After all 60 years have passed. I mean 60 years! That is a lifetime. Move on. Get over it.
The first idea, where the swastika that was shown was not meant as a call to attention nor as a particularly depraved method in making a statement, has been defended in the comments section by one who calls herself Tsuki. You can view both here comments in the post,
The Day Hitler Became A "Funky Dude"
. Tsuki lectures me and all of us on the differences in swastika's, and of course along the line tells me/us how disrespectful we are of the Buddhist/Hindu faith. Of course, Buddhists, real Buddhists, have never and will never use their symbol on a forum board. Of course real Buddhists would do everything NOT TO CALL attention to themselves.
All the time she defended Buddhism and the symbol, well one can smile and take it in.
Though this argument does not and never had anything to do with Buddhists.
But the moment someone tells me just what I should be doing...well..that is the moment when I must take a step back and say, "Hold on. Wait a second here." And it is the crux, the central point, the focal part of this insidious hate.
Let us see from the comment what Tsuki preaches:
The symbol that SHOULD be offensive to those of Jewish faith is a CLOCKWISE SWASTIKA ON A WHITE CIRCLE WITH A RED BACKGROUND.

Now I know what a Swastika is! So the
only
swastika I should be offended at, by virtue of being Jewish is the one you describe. Well Tsuki here is a picture-graph.
In other words since none of those Swastikas, do not have a red background and most are not slanted correctly - whether they are painted wrong or right, upside down or sideways - none of them should offend me? They are not being used as hate symbols? Golly Gee! Would you look at that! All those pretty little swastikas must have been painted by well-meaning people who had no desire to offend, harm or kill.
Now let us do a comparison shall we? Just a little itty bitty one. Just to make sure we are all seeing the same hate-ridden symbol. Just to make sure that we are presenting this properly.
Compare the swastika on the right of this picture...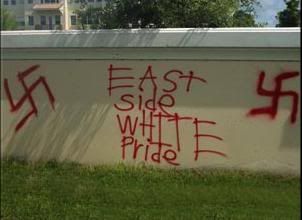 Compare the swastika on the right under the S of "Cleaners"...

And this one...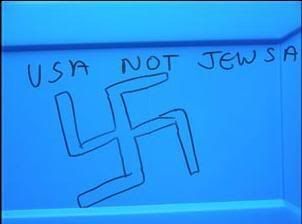 And the all too familiar...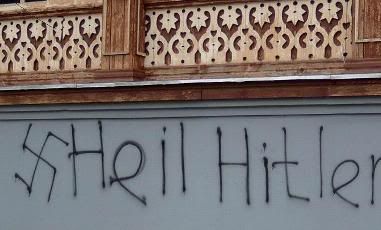 Jewish graves are a favorite...
Oh yes, I know. There is a symbol - never flaunted, never worn on a lapel. And one is the embodiment of evil. Always flaunted by the hate mongers. Oh yes, I realize one is the symbol of peace and joy and love - the other a symbol of death and horror. Of course we should all look real closely, see the dots, click on links, read the word Swastika emblazoned on top of Internet pages, see the explanations about Nazis and then - "reclaim" the symbol. Or maybe we should just let it go by. Because we all know that Buddhists always flaunt those symbols in public - on forum boards no less - where they know it will cause nightmares for many.
Those symbols above so look like a Nazi SWASTIKA! Now how could any Jew or holocaust survivor take umbrage! Shame on us! We need to see slanted, and red backgrounds. We need to see the EXACT REPLICA before we start having nightmares. I need to look for the dots no less! What a revelation! We need to see it exactly as you see it in the movies before we say - Never Again! We need to see a Storm Trooper in Black Boots and a white on red swastika before we can actually say that those lovely symbols bring every memory of evil personified back into our minds.
Not on your life. Not in a million lifetimes. Those are symbols in the modern world of hate and evil. Buddhists do NOT EVER paint their symbols in public forums outside of their own places of worship or places where they live. They do not go to public forum boards and wave that symbol around in a call to attention. Not ever.
This is so not about Buddhist symbols. This was never about Buddhist symbols.
This was about a child who had to call attention to himself, and decided to link a "symbol" to a page emblazoned with the word Swastika also including the Nazi's use of this symbol.
At best this is about "revisionist history". This is about the first step in trying to eradicate the Holocaust from the mind of man. This is about a total and deep lack of understanding just what exactly did happen.
My last worry in the world is offending Buddhists. They are well aware what that symbol means to the mind of modern man. My last worry is that someone became a Buddhist and was proud of the fact and all the more power to a person that does so in purity and good faith. The very fact that the foul phrases used ("
scummy holocaust crap
" comes to mind just for starters) and the quotes about Hitler (which we will get to) were engendered by all of this, points to things a hell of a lot more sinister than just a Buddhist symbol used by the wrong person in the wrong time in the wrong place.
You want to lecture us on Buddhist symbols. Go right ahead.
Don't you ever dare lecture me on what a Jew should be offended at.
Don't you dare lecture anyone on just what that symbol means to any normal thinking human being. Don't you dare tell me what should or should not offend me. I have seen those who walk around with a swastika on their arms, in tattoos and elsewhere. They were not painted on red backgrounds. They were upright or upside down and right side left. They could have been sky-blue pink to me for all I care. They were swastikas. And I know damn well what the portrayal of that symbol means. I do not rely on the intelligence of some child who cannot imagine in her wildest dreams what that symbol represents to a nation murdered in cold blood by the bearers of that symbol - to tell me what I should be offended at and how that symbol should look - before I interpret the hate in the eyes of those who wear it, and spray paint it, and put it on their signatures. There is nothing more loathsome, more disgusting, more depraved than a mob mentality defending the use of a swastika as a religious symbol - when they themselves have no clue what they are talking about.
And let us for a moment deal with this shall we. Just a short part of this long post. One called Toothpaste seems to have gotten dragged over the coals for expressing an opposing opinion. (Not to talk about others who were told just where to shove it.) And Toothpaste made it clear, absolutely clear, she/he did not agree with me. (
Click here to see the full post
.) But then she/he informed all of Absolute Write:
"But I do think the choice should be to show that symbol, but everyone has been telling me the choice in not an act of peace, but rather a means of solidarity in an antagonistic fashion."

This is what Buddhists do? Antagonize? Wear symbols to show their antagonism? And they want people to show solidarity for their symbol by antagonizing others? You have got to be kidding me.
Who is insulting Buddhism now? Who is insulting that religious symbol? Who is making a mockery of it? All the sudden "free speech" people at Absolute Write? Just who here has degraded the symbol of Buddhism into a method of attack and depravity?
So in order to show this "
means of solidarity in an antagonistic fashion
" others placed a Swastika on their signatures. They were indeed careful. They made sure that they were "teaching" the uneducated among us that a "swastika" does not, in certain societies have any "evil" connotations. They wanted to make it clear that the swastika was and is still used by other societies.
And thus we have this:
And this (The A below should be an image of a swastika as the text bears out):
And this piece (where to be totally fair to the poster of the Swastika below, where he wrote "
Here for your enjoyment
" he simply pulled that picture from
Wikipedia's article on Swastikas
. The exact same article where the authors made it clear:
In the Western world, since World War II,

the swastika is usually associated with the flag of Nazi Germany and the Nazi Party

. Prior to this association, swastikas were used throughout the western world.)

The mob attacks. They sing "all for one and one for all". They hold the symbol up and scream their loyalty. They do so without understanding or thinking.
So according to these people, either the Swastika is a symbol that must be "reclaimed" or it is a symbol that should be recognized by one and all - symbolizing the Buddhist tradition. Or a symbol of farmers from Tibet or the Navajo Medicine Men. Perhaps there are others that use this symbol as well. Funny how I did not see not ONE person wear a swastika on their signature and say:
"

This symbol was also used by Hitler and Nazi Germany to murder, rape and kill in a megalomaniac war millions upon millions of people - and was also used to send millions to their death in concentration camps.

"

Indeed since we are quoting eclectic and "revisionist" statements, maybe we should also quote this as well (
For a full link - go here
.) And this is from an article trying to show the differences between the symbols and how the Buddhist symbol is a mirror image of the Nazi Swastika.
swastika

The swastika is a symbol representing the Nazi party and all of the evil that party stood for: anti-Semitism, the Holocaust, hatred of homosexuals, desire to eliminate the handicapped and infirm, etc.

It wasn't always that way. The swastika is an ancient and frequently recurring symbol, found in many different cultures during many different times. One can find the swastika associated with Hopi Indians, Aztecs, the Celts, Buddhists, Greeks, Hindus (swastika derives from Sanskrit and means to be well), etc.

Whatever and however noble its ancient heritage, the symbol of the swastika has been forever tainted in the West because of its Nazi association.
The fact remains that the symbol was also and most recently used by the Nazis. The fact remains that most people know and realize that
Buddhists never use this symbol to flaunt or antagonize especially in public - especially on a public forum board
. The fact remains that the only reason any person displayed a swastika was to either call pathetic attention to themselves - knowing full well that such an act is depraved - or as was so aptly put as a "
means of solidarity in an antagonistic fashion
". More to the point, if this symbol was being expressed as an act of love, then why, the question is asked, why did it engender such shocking statements on Absolute Write about Hitler and the Nazis? Why even after all the explanations did many find it completely shocking? Why were so many disgusted at it? Why were they told to shut up when they voiced opposition to the "
means of solidarity in an antagonistic fashion
" being displayed at Absolute Write? Even in light of the fact that it certainly is true that in today's society -
"the swastika is usually associated with the flag of Nazi Germany and the Nazi Party
."
I honestly have no real answers to these questions. I can put it down to ignorance. I can explain it away as simply being not aware what the swastika truly means to many who were and are effected by it. I can say it is insidious hate. I can say it is just plain old stupidity. I can give a million answers and none truly cover the horrendous display that was made at Absolute Write of swastikas and Hitler/Nazi lines.
Indeed perhaps it would be good to remember that -
"Whatever and however noble its ancient heritage, the symbol of the swastika has been forever tainted in the West because of its Nazi association."
However I do know some things are completely and totally inexcusable. And so we are forced now to deal with the "sarcastic wit". Let us for the moment show the picture of this wonderful post.
Now of course Ben, who calls himself Loquax on Absolute Write, must have been appalled that his post would be hung out for all the world to see. And so he commented in the thread,
The Day Hitler Became A "Funky Dude".
I would just like to point out that what I wrote was a quote from social satirist Bill Hicks. Our intentions were both light hearted, and do not represent our true feelings on the matter - such is the nature of satire and sarcasm. It disappoints me I have to point this out.

But what you have written about me and my friends is from the heart. Your insults are not jokes. Not only are they not jokes, neither are they directed at us. Your badmouthing is behind our backs, in the safety of your moderated blog. You did not contact me for explanation or an apology request. You simply insulted me behind my back and expected things to "get better". Your actions have been petty, immature, and quite frankly laughable for a man of your age and intelligence.

The difference between us is that your words are intended to harm, whereas ours are intended to crack a smile or raise an eyebrow. Our hearts are free of hate - yours is brimming with it. The poison in your words, and the disrespect you show to your fellow man, is disgusting. I want you to understand this, and I want you to seriously consider the intentions behind what you have written.

I also strongly suggest you direct your hate at the real problems of our world - not at the sarcastic ramblings of an online writing group. You have passion in your heart, and it needs a vent. Find something constructive to do - all you are achieving here is destruction and hatred. Do you really think our world needs more of that?

Or perhaps we need tolerance and the ability to laugh at ourselves.

Just to remind you, here is the comment meant to "crack a smile".
Hitler had the right idea, he was just an underachiever.
So of course it is sarcastic wit. This was a comment intended to "
crack a smile
"! This is funny! This is from someone "free of hate". Someone with a deep understanding of history and the Nazis. Someone full of sensitivity for holocaust survivors. This is just to "
crack a smile
"! Now I have heard it all.
Thing is, that little ditty he quoted is at least 40 years old. I heard it from some skinheads when they were not called skinheads when I was 14 years old. Thing is no matter how you look at it, no matter how you want it to come out - it is just plain evil and sick. Imagine a comedian saying that from a stage. Or someone on radio or television coming out with that line. Or a public figure in a normal country espousing such a thought. The person, thankfully, would be ripped apart in the press in less than 5 seconds. And yet for some reason it is excused on Absolute Write. That can only point to an insidious sick deeply depraved way of thinking.
There are some things you just do not say. There are some lines that no matter how funny they sound to your ears - that remain inexcusable and just plain disgusting.
Forever. There is no turning back.

You said it and signed your name to it. Worse, you defended it when you should have apologized and then hid under a rock. It is your swastika now.


There is no "context" for such a line. There is no before and after. There is no excuse. It is one of those things that once uttered stands in all its glory all by itself. Insistence by the writer of that line and others at Absolute Write that this does not portray a sick, evil thought- that it should be seen in context as "sarcasm" - that it is not the quintessence of hate and certainly not anti-semitic - does not fly. This line along with others is one of those lines that simply portray hatred in all its manifestations.
You think excusing this away in some fashion where you try to sound like an intellect will excuse just what you said and all the memories such a line brings to the fore. Insulting you? Damn straight. You insulted an entire people - No, you did much worse than that. You insulted millions upon millions of people that were killed in the name of the megalomania of the "underachiever". Sarcastic wit? Cracking a smile? Laughing at ourselves by calling Hitler an underachiever? What dark hole did you crawl out of?
Underachiever? Lets see how much of smile we can crack here. Let us just look at some of the images this line brings to the fore, shall we? Since it seems words only bring out the evil, let us try pictures. Maybe then those who think this is some "rant" will possibly think twice at defending the Swastika and portraying it. Maybe, but I doubt it. (Every single picture below is taken from Holocaust archives. Easy to find. Easy to view.)
You mean this picture from Bergen Belsen should "crack a smile"?
Or maybe this one from Auschwitz of the Germans being forced to view what the underachiever had accomplished?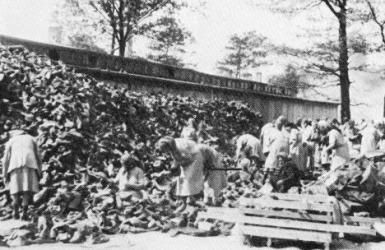 Tell me how many human beings, how many lives does this pile of glasses represent? How much underachieving is there? How much of a "funky dude" Hitler must have been!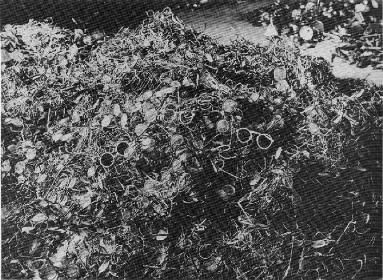 Or maybe this one from bodies being burned in a pit in Poland?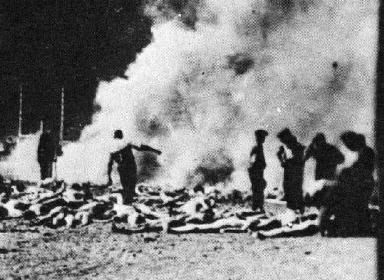 Or maybe this one of mass murder?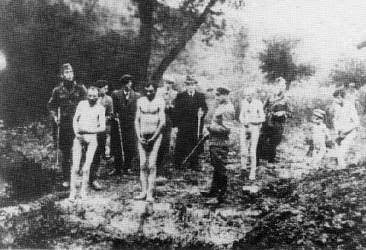 Or this?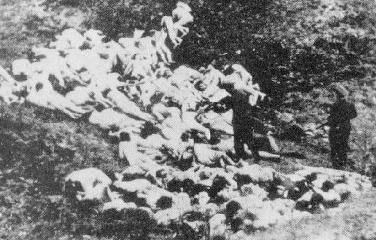 Or this?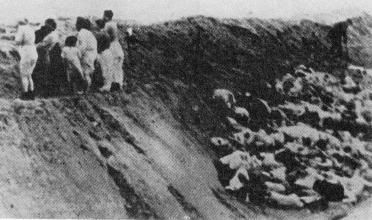 THIS IS WHAT THE SWASTIKA REPRESENTS TO US. RIGHT SIDE UP OR UPSIDE DOWN. BLACK ON RED; PINK ON PURPLE. NO SMILING HERE. NO STANDING IN AWE OF INCREDIBLE WIT. NO TAKING A MOMENT TO "CHILL". NO NEED TO LOOK IT UP IN WIKIPEDIA. JUST PURE SHOCK AT THE EVIL.
This is what the underachiever line of yours and others makes any Jew and non-Jew who has a semblance of self respect see in their mind. Sarcastic wit? Crack a smile? If you truly believe such a thing and sadly I believe you do, I believe you are just simply too dulled to see the nature of your words and their evil... then what a sick, dark and evil place your mind must be.
And truthfully in the end it is sadly time for a picture history lesson. About the "funky dude" and the "underachiever". Let us see why normal human beings are horrified when they see the Swastika. Let us understand why excuses about using "sarcasm" just do not cut it. Why they are simply excuses and point to insidious hate on a real deep level. Let us understand why I personally do not give a damn in what color or how the swastika is displayed - because in the end as we saw above the only reason it was displayed was to provoke. You must possess a real sick mind, a shallow understanding of history and a real twisted view on the world to be able to demand that the swastika should be reclaimed. Any sick, twisted, demented individual who would dare post such a line and then hide behind "Hey, it is not my fault. It is just sarcastic wit. I am sorry to have to point that out!" - is not only evil but a coward to boot. But then again I am not surprised. Not in the least.
You see the Swastika bearers did this to our children. It was just a medical experiment. They did it to please the underachiever who was a funky dude, wearing the swastika.
They murdered us in cold blood and took pictures of it in pride.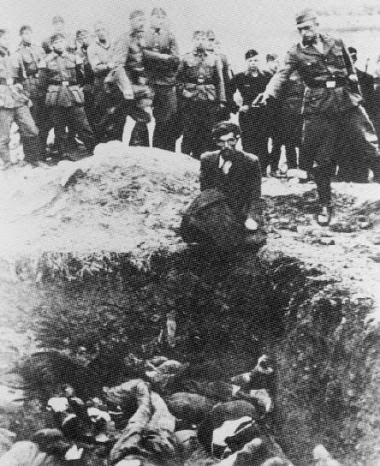 When one allows things like this to pass in silence, then it is no wonder we find tee-shirts like this being worn by people - to "crack a smile" as it were. (And by the way, that tee-shirt caused such a ruckus it was taken down the moment it hit the press that it was being sold at a popular Internet site. But why? I mean, hey, it is funny...isn't it?)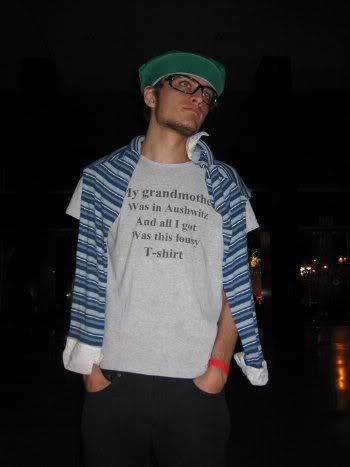 In three weeks we commemorate Yom HaShoah (lit. "The Day of the Holocaust) or as it is known throughout the world "Holocaust Remembrance Day". Jews and non-Jews all over the world commemorate this day. On that day, at 11:00 AM precisely, the wail of a mournful siren is heard throughout Israel for two eternal minutes. Souls of six million children, women and men whisper to us as we stand with heads bowed listening to that siren. We listen. We listen and utter the Kaddish for those six million slaughtered human beings. We remember. We burn what the swastika bearers did to our people and the rest of humanity not 60 years ago into our collective and singular conscience. We feel the tears flow. The sorrow. We look to blame God and the ministering angels - asking God - "Why?"
And in the words of the Kaddish we find the frightening truth. We understand that it is not God that wrought this destruction - but a portion of mankind who for a moment in history traded places with Satan himself, and with a swastika emblazoned as a symbol upon their hearts went out on a rampage of hate and murder such as the world never knew.
It was our silence that allowed this to occur. The silence of those who saw the swastika and listened to exactly what a monster was going to do - and said "That is just a scare tatic. The Jews are being made into a scapegoat just to unite the Aryan nation. No one is going to mass murder an entire people."
And when it was over, even while they had seen the ashes of the concentration camp crematoria rain down upon their villages and cities for years; even while every morning they awoke to the smell of burning flesh; even while they stayed silent - they claimed:
"We did not know!"
"We did not believe it was happening."
"We were only following orders."
When that siren goes off on Holocaust Remembrance Day it is a reminder. We do not want to reclaim the swastika. We do not want to purify it. How does one purge the blood of millions from the symbol that caused the murder? How does one forget it?
We remember. We burn into our hearts and minds. We teach our children. And their children. And we will teach our great-great-great great grandchildren to remember. Because if we fail in that task - if the Kaddish ever fails to pass over our lips - if we choose to forgive and forget - if we allow ourselves to become complacent - if for one moment in time we choose to ignore statements of hate which do not belong upon the lips of civilized man - it will happen again.
So you must excuse us when someone normal sees a swastika, then reads lines about Hitler being "a funky dude" and "an underachiever" - we don't break out in laughter at the great awesome wit. You will excuse us please, if we refuse to forget. You will excuse us if we get a wee bit "over-emotional" at such things. You will excuse us if we see the mob mentality take over - and the swastika come out once again in all its loathsome glory - to antagonize; to bite; to remind us; to make us shiver with fear in the night. You will excuse us when we say "Never Again".
Silence Is Not An Option.
---
---

Posted On:

Cobwebs Of The Mind

---
Tags: